Welcome to La Chuisa in Montefollonico
As your train pulls into the Chuisi station (located between Florence and Rome), you will take a short car ride through the gentle winding roads curvaceously paved though the Tuscan countryside to the town of Montefollonico. This is what you have dreamed of, the sun streaming down on golden fields, olive groves and vineyards. You are finally here, in your Italian paradise.
As your car pulls into La Chiusa and you hear that crunch of the gravel driveway, you are warmly welcomed to your home for the week by owners Umberto Lucherini and Dania Masotti. Their attentive staff along with your Tuscan Women Cook hosts Coleen and Rhonda, attend to your every request for a truly memorable stay.
Travelers from all over the world come to the charming town of Montefollonico just to stay in this historic landmark.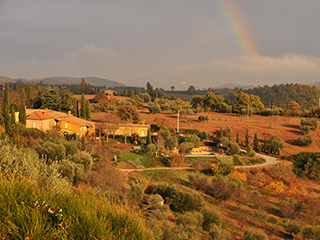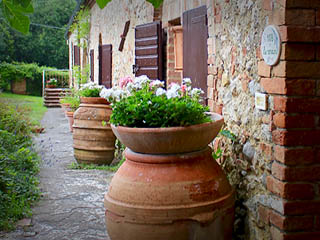 La Chuisa is a 300-year-old olive mill that has been lovingly renovated, restored and re-invented into spacious guest suites that offer old world charm along with modern conveniences. Each of the 15 suites is unique, featuring architectural elements from the original structure—exposed brick walls, millstones from the olive press, wood-beamed ceilings, and fireplaces.
La Chiusa's rustic accommodations, 24/7 concierge, and award-winning restaurant with a wine cellar offering top local picks (Vino Nobile di Montepulciano, Brunello di Montalcino) has been critically acclaimed for decades.
Your days will begin with an al fresco breakfast on the terrace that includes fragrant, fresh-baked bread from La Chiusa's wood-burning oven along with fruits and vegetables grown in their organic garden.
La Chiusa is centrally located for all your cooking classes and daily excursions. Montepulciano, Montalcino, Pienza, Siena and other spectacular Tuscan destinations will be just a short, picturesque motor coach drive away.

See the sample weekly schedule of the Tuscan Women Cook cooking school.