Pumpkin Tiramisù
Throw your die-hard pumpkin pie eaters a delicious challenge with this Thanksgiving variation on the classic Italian dessert.
1 box of Pavesini cookies, or crisp ladyfinger cookies
3 cups of espresso
8 eggs, separated yolks & whites
16 oz. mascarpone
15 oz. pumpkin puree
Pumpkin pie spice
8 tbsp. granulated white sugar
Dark chocolate curls for garnish
Whip egg whites until peaks have formed.
Whip mascarpone until softer/creamier consistency.
Fold egg whites into whipped mascarpone.
In a separate bowl, combine the egg yolks and sugar and mix until combined evenly.
Gradually fold the egg white/mascarpone mixture into the egg yolk/sugar mixture.
Once evenly combined, add a heaping tablespoon at a time of the pumpkin puree and mix; repeat until all the puree is used. Do not combine all at once or the final product will not be as light and fluffy.
Add 2 tablespoons of pumpkin pie spice, depending on how strong you like the flavor; you can add more to taste.
Pour espresso into a bowl; individually and quickly dip a Pavesini cookie into the espresso. Be sure not to soak them as the cookies will be too soggy and will completely change the texture. Layer the cookies at the bottom of a tray until covered.
Spread a layer of the pumpkin mixture on top of the cookies.
Dip and place another layer of espresso-dipped Pavesini cookies on top of the pumpkin mixture. Repeat until the tray is full to the top.
Chill in the fridge and let set for a minimum of 1 hour.
Garnish with pumpkin pie spice and shaved dark chocolate curls.
Earlier Recipes
Minestra di Fagioli
Many versions of this recipe implore you to make the soup at least one day before you're going to serve it, letting every ingredient meld together into the ultimate Italian zuppa.
10 ounces dry white beans, preferably cannellini beans
4 ounces pearl barley (optional)
2 carrots, large
3 celery stalks, including some leaves
2 onions, small
2 cans tomatoes
1/3-cup olive oil
Salt and pepper to taste
Soak the white beans overnight in plenty of cold water. The next morning, drain the beans and place in a saucepan with cold water and cook until tender.
If using barley, soak overnight in plenty of cold water. The next morning, drain the barley and place in a saucepan of water and cook for 30 minutes and drain again.
Slice, dice, and sauté the carrots, celery, celery leaves,and onions in the olive oil for 10-15 minutes. Add the beans and season with salt and pepper. Cook gently for another 20-30 minutes. Add the tomatoes and cook on low heat for another 15 minutes. Add water if necessary. Add the barley if using and heat the soup for another 10 minutes.
Serve in warm soup bowls with a generous drizzle of olive oil. Serves 4-6.
Pici Pasta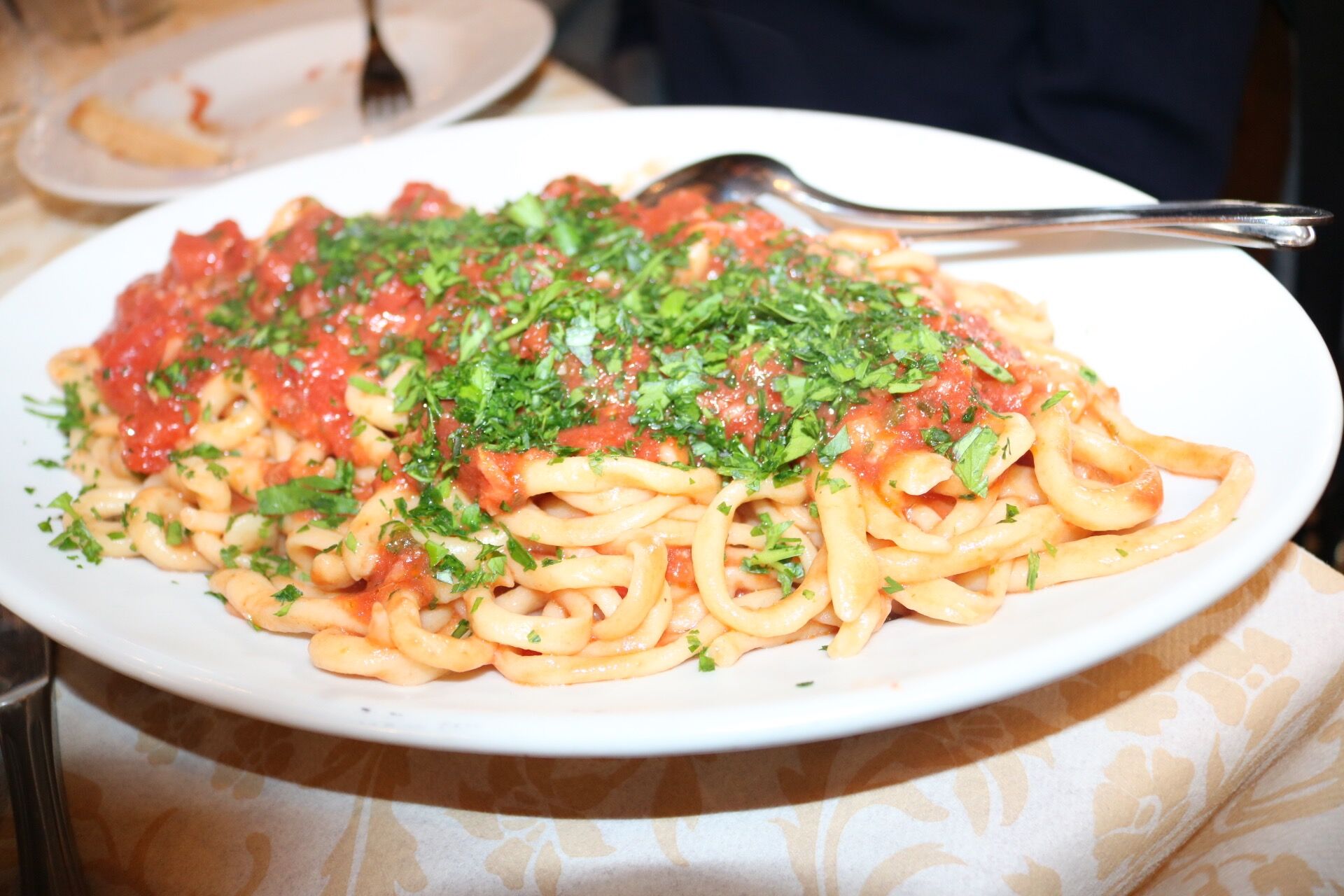 Perhaps the most "hands-on" pasta Tuscan Women Cook guests enjoy preparing is
pici
(from
appicciare
, to "stick/cling/adhere"), a long, luscious, thick noodle.
2-3/4 cups all-purpose flour
1 large egg
1 Tbsp. olive oil
Water
Pinch of salt
Beat egg in a large bowl with a pinch of salt, the olive oil, and some lukewarm water. Add the flour to obtain a smooth compact dough. Let the dough rest, oiled and covered for 10 minutes.
Transfer the dough to a floured wood surface, roll out with a rolling pin to a thickness of 0.2 inch and cut into 0.4 inch wide strips.
Wind each dough ribbon by hand into the shape of very long, twisted thick spaghetti. As the pici are made, lay them down on a surface sprinkled with cornmeal and sprinkle the top with cornmeal so they don't stick together. Cook in salted water for three to four minutes.
Tomato Sauce with Aglione
4-6 aglione cloves (a delicate form of garlic; garlic can be easily substituted)
2-1/2 cups canned tomatoes
Olive oil
Fresh basil
Salt to taste
Chop the garlic and sauté with olive oil over medium heat. When the garlic starts to color (do not brown!), add the tomatoes, basil, and salt. Simmer for 15 to 20 minutes. Combine with pasta.
Cantucci—Isa's Biscotti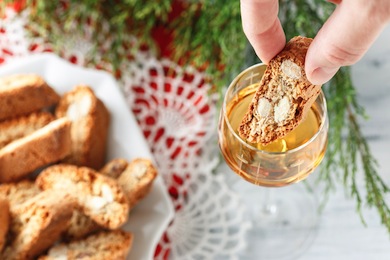 Cantucci is a cookie we make often and we also give it away for the holidays to our loved ones. Cantucci can be dipped into chocolate, coffee, or Vin Santo.
3-3/4 cups all-purpose flour
2-1/2 cups sugar
4 large eggs
Zest of 1 orange
Zest of 1 lemon
1 Tbsp. baking powder
Vanilla
2 cups roasted almonds, chopped **
1 egg, beaten
Preheat oven to 300 degrees F.. Toast almonds in oven for 20 minutes.
Mix flour, sugar, eggs, zest of orange and lemon, baking powder, and vanilla together. Knead slowly until the mixture becomes a firm ball.
Slowly knead the almonds into the firm dough until completely dispersed throughout. Cut into smaller pieces of the dough and roll into the shape of "fat pici". (Pici are a thick noodle common to Tuscany. See recipe above.)
Place strips of dough onto oiled baking sheet. Brush lightly with egg wash. Place in oven for 20-25 minutes until lightly browned.
Remove from oven. Slice the cantucci with a bias cut. Cool and store. This will be a somewhat soft cookie.
Option: Place cantucci back in the oven with the cut side up for 10 additional minutes. Cool completely. This will be a very firm cookie.
** You can use your favorite roasted or raw nuts in the recipe. One of our nonnas prefers hazelnuts.
Risotto dell'Orto—Garden Vegetable Risotto
Try this traditional autumn comfort food recipe. This delicious side dish can be paired with any meat or poultry dish or served alone.
4 Tbsp. unsalted butter
1 medium onion, finely chopped
1 cup Carnaroli rice
1 small courgette (zucchini)
10 Valerian leaves (optional)
10 green asparagus tips
10 basil leaves, finely chopped
4 tender spinach leaves
¼ cup Parmesan cheese, finely grated
White pepper
Vegetable stock:
2 small courgettes, quartered
2 Swiss chard leaves
Asparagus spears, without tips, peeled
Salt
Vegetable stock: Place the courgettes, Swiss chart leaves and asparagus spears in a saucepan with 4 pints of salted water and cook for 20 minutes over medium heat. This vegetable stock is the cooking liquid for making the risotto and should be prepared first. Keep it simmering constantly.
In a saucepan, melt the butter and sauté the onion for 3 minutes. Add all the vegetables and sweat them over low heat. After 10 minutes, add the rice and stir until it becomes translucent. Add the vegetable stock a little at a time, stirring continuously. After about 18 minutes, add the chopped herbs. When the rice reaches al dente stage, take it off the heat, taste and correct for salt. Mix in the grated Parmesan cheese. Garnish with a few courgettes slices and serve at once.
Ribollita—Iolanda's Bread and Vegetable Soup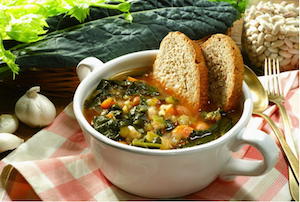 Ribollita means "reboiled". This Italian interpretation of leftovers resonates with everyone who believes many dishes actually taste better the next day. Ribollita is resplendent with layers of flavorful textures. Every kind of vegetable, fresh, frozen or previously cooked, will taste great in this recipe.
½ cup extra virgin olive oil
1 small onion, diced
4 carrots, diced
2 celery stalks, diced
1 Tbsp. minced garlic
2 cups dried Tuscan white beans
2 28-ounce cans whole peeled tomatoes, undrained
1 bunch Tuscan kale, coarsely chopped
3 large leaves Swiss chard, coarsely chopped
One-half whole cabbage, shredded and coarsely chopped
1 loaf Italian bread, sliced and toasted
Salt and ground black pepper
Soak the dried beans overnight in water. Pour off the water. Place in fresh water and cook until tender. Drain and reserve the bean cooking liquid.
Heat the olive oil in a large pot and cook the carrots, celery, and onion over low heat for about 15 minutes. Add the tomatoes and cook for another 15 minutes. Then add the beans and half the reserved cooking liquid. Season with salt and pepper to taste. Cook on low heat for 30 minutes. Add the Tuscan kale, Swiss chard, and cabbage and cook for 60 minutes, adding the remaining cooking liquid. Add water or broth for the consistency you want.
To serve, arrange slices of the toasted bread to cover the bottom of a soup bowl and ladle a serving portion of soup on top of the bread. Let stand a few minutes before serving. Serve extra bread on the side.
Serve hot or at room temperature.
Serve with a drizzle of olive oil. Serves 4-6.
Ciambellone Toscano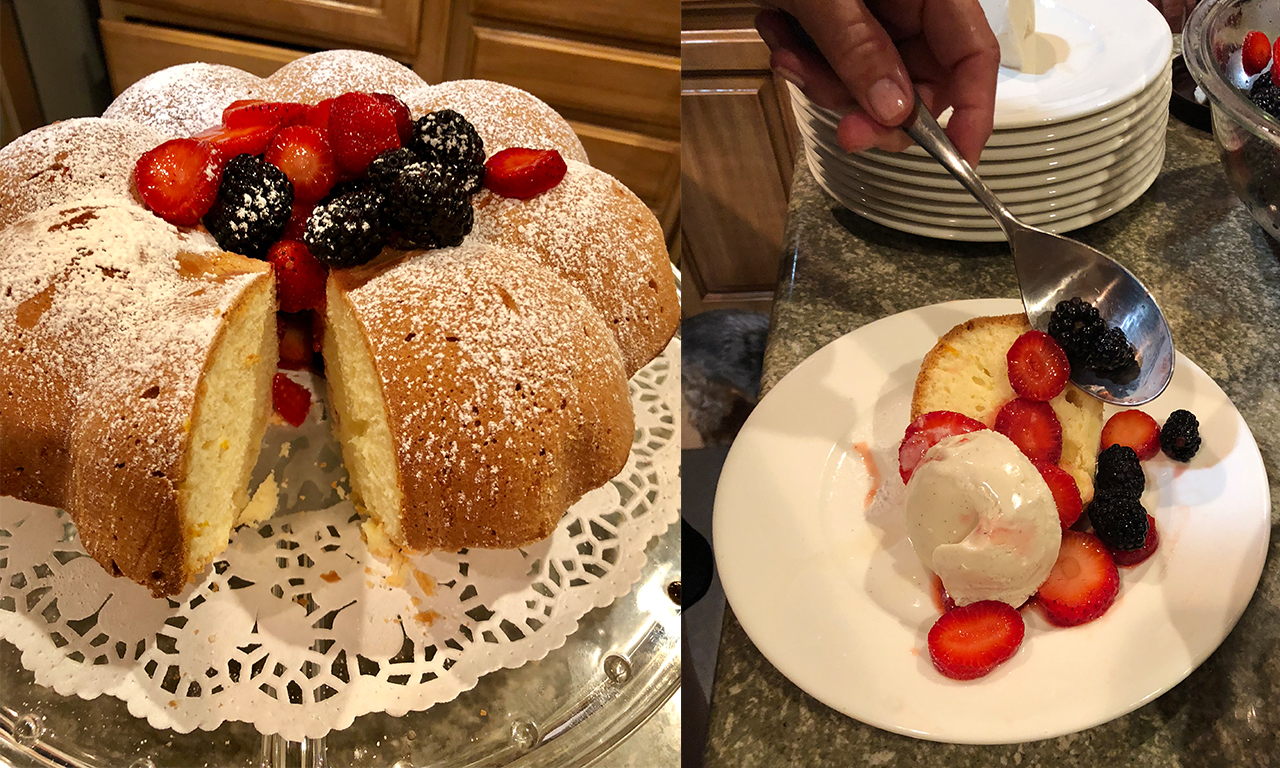 This flavorful little cake was served to us with afternoon coffee by one of our neighbors, Simonetta. Simonetta is the daughter of one of our first nonnas, Iolanda, who is a culinary legend in Montefollonico. Both are natives of the Tuscan village of Montefollonico and this coffee cake recipe has been a favorite of her family for generations. Buon appetito!
Preheat oven to 350° F, rack in the center.
10-cup, tube or Bundt type pan, sprayed with non-stick spray.
3/4 cup unsalted butter, softened
1-1/2 cups confectioners (powdered) sugar
3 large eggs, room temperature
3-1/2 cups cake flour
2 tsp. baking powder
Pinch salt
1 cup whole milk
2 tsp. freshly grated orange zest
1. In a mixing bowl, blend butter and sugar until light and fluffy, about 3 minutes. Add eggs one at a time, blending in between each addition until fully incorporated.
2. In a medium bowl, whisk together cake flour, baking powder and salt. Add one-third of the flour mixture to the batter and mix well. Add in one-half cup milk and mix well. Continue adding in the flour mixture in thirds, alternating with the remaining milk, blending until all is mixed well.
3. Fold in the orange zest.
4. Pour the mixture into the prepared pan, smoothing to the edges. Place in preheated oven until a toothpick inserted into the center comes out clean, about 45 minutes.
5. Place on a cooling rack for 10 minutes, then invert onto serving plate. Dust with additional powdered sugar prior to serving. Serves 10 to 12.
OPTIONAL: This cake can be served with a scoop of your favorite gelato or ice cream and fresh seasonal fruit.